Where in the World is Carmen Sandiego? Card Game is a Target-exclusive board game released by Pressman Toys, based on the Brøderbund Carmen Sandiego video games.
Description
"Use deduction skills as you follow Carmen's trail across the globe! In this card game, you act as an agent tracking down the famous "thief," Carmen Sandiego™, who has stolen priceless artifacts. Sold exclusively at Target."[1]
Gameplay
Game Contents
13 V.I.L.E. Cards
13 location cards
13 loot cards
4 top secret evidence journals
4 dry-erase pens
1 die
Reception
It has 3.7 out of 5 stars out of 61 user ratings on Target's website.[2]
On BoardGameGeek.com, it has a rating of 5.6 out of 141 user ratings.[3]
Gallery
Videos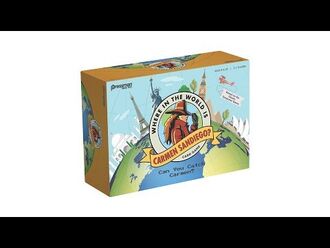 References
External links