This article is about the villainous organization in the games. You may be looking for the 2019 version of the same name.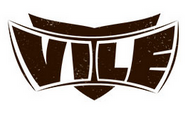 V.I.L.E. (Villain's International League of Evil) is a criminal organization led by Carmen Sandiego in the games and the 90s tv shows. This gang's reach not only spreads across the globe, but also through space and time.
Earlier series elements usually indicate them as a group of extremely clever and formidable, if quirky, criminals. Later games indicate that Carmen has something of a soft spot for D-list crooks and includes them in V.I.L.E. out of pity.
Members
Astro Fizzix

Auntie Bellum

Avery Littlebit Phelps

B.B.D. O'Brien

Baron Grinnit

Bea Miupscotti

Benjamin Hana

Billy Flop

Carmen Sandiego (leader)

Casey Rah-Sirah

Chips Motherboard

Claire E. Net

Claire Voyant

Cobina Vanderbilt

Cora Net

Cy Berpunk

Dee Linquint

Dee Molish

Dee Pockets

Della Kitessen

Doug Grave

Dr. D. Ranged

Earl E. Bird

Electra Vector

Ella Vator

Enzo di Galaxy

Esther Odious

Gene Yuss

G. Whiz Bang

Gypsy Rose Lasagna

Hanover Fist

Homer DeBrave

Hope Less

Hugo Yurway

I.I. Captain

Ill Will

Infinity McMath

Jess U. Wait

June Bug

Justin Case

Karl La Fong

Ken Hartley Reed

Kim Chee

Kit Incaboodle

Kitty Litter

Laverne Onions

Lee & Bill Ding

Leif Malone

Liebsen Bounz

Lotta Style

Luce Leaf

Lucinda Boltz

Luke Warmwater

Lynn Gweeny

Marcy Bo Koo

Marty Graw

Matt Knife

Mel Ancholy

Molly Coddle

Moms DeWard

Morton U. Bargandfore

Mylar Naugahyde

Noah Clue

Nebulus Doolittle

Nick Furtive

Nosmo King

Otto Readmore/Gnash

Oly O'Leahy

Patty Melt

Pete Moss

Polly Esther Fabrique

Queen Notalotenkammen

Rhoda Lottamiles

Rita Laboudit

Rudy Lepay

Sharon Sharalike

Sheriff Paul Drive

Shlomo Replay

Skip Tumelu

Stanley Cupp

Sven Galli

Sybil Servant

Tab Stop

Tippi Canoe

Verna-Lee Kwinox

Wendy Pauper
Robots
Gallery