Carmen Sandiego: The Crown Jewels Caper (a.k.a. Where on Google Earth is Carmen Sandiego?) is the first game in a series of Google Earth web games, based on the Carmen Sandiego Netflix series.
Plot
"The world's greatest super thief has struck again. Can you track her around the globe to recover the stolen loot? You'll need to talk to locals, gather clues, and learn about different cultures as you follow Carmen's trail around the world."[1]
Gameplay
The game is styled after classic Carmen Sandiego games, having to talk to witnesses and deduce the location of the title character.
Locations
Witnesses
Production
Early concepts began when Google Brand Studio Experiments Group saw Google Earth's guided tours and geo-quizzes as a perfect fit for Carmen Sandiego.[2]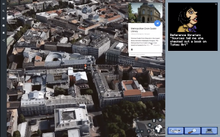 In the summer of 2017, the group began work on a tech demo featuring Carmen Sandiego, using art assets from a Carmen Sandiego SNES game. The demo was short, providing the groundwork for a fuller project. Studio Experiments Group then presented the project to the Google Earth team, and the project was given high praise. It was then agreed that the project would continue.[2]
In early 2018, the team set up a meeting with Houghton Mifflin Harcourt, presenting the aforementioned demo. The company saw it as a perfect fit for their (at the time) upcoming relaunch of the Carmen Sandiego brand. Houghton provided various materials and resources relating to the series' revival, and the project officially began. Jk Kafalas provided the UI design, and the team contacted Chromosphere, the production design team of the Netflix series, to design graphics for ~40 witness characters.[2]
Cut Content
The game was originally going to have a pixelated Google Earth, but due to performance issues, the feature was removed. Sound effects were also included in early builds, but due to the fact Google Chrome has sound effects off by default, most players didn't hear them, and thus were removed.[2]
Release
The game was released on March 13, 2019, followed by two sequals, Tutankhamun's Mask Caper and The Keys to the Kremlin Caper.
Awards
Year
Award
Nominee
Result
2020[3]
Webby Awards People's Choice Award

Games - Family & Kids

Ubilabs
TBD
Gallery
Screenshots
Production
Stills
Videos
External links
References
Community content is available under
CC-BY-SA
unless otherwise noted.