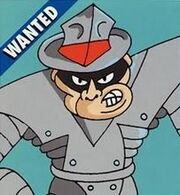 RoboCrook is Carmen Sandiego's right-hand man... er, robot. RoboCrook's history is a mystery, but one thing's clear: he'll do anything Carmen Sandiego or one of her villains tells him to do. His name is presumably a pun on that of RoboCop, a cyborg police officer. RoboCrook's real name, as mentioned in a phone conversation on the show, is "RoboCrook Unit-059". It was also revealed by the Chief in an episode that RoboCrook's birthplace is Cupertino, California, a town in the famous Silicon Valley.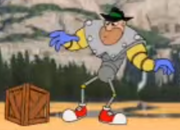 Gameplay
Robocrook walks by while carrying a wooden box, when a female robot passes him, before immediately becoming lovestruck as he drops the box while holding it, but while following the female robot, the weight of the box causes his arms to stretch out, before the box suddenly flies out and hits him off-screen.
Robocrook is pushing a large dumpster when a box falls out of it, but when Robocrook goes to pick it up, a laser comes out of the dumpster and shoots him, causing him to jump before landing on the box, breaking it, before the laser shoots him again as he jumps off-screen to the left, while the dumpster rolls away off-screen to the right.
Robocrook walks in from the right side of the screen before facing the player and pressing a button his chest, which causes a propeller to pop out from the top of his hat as it starts spinning, but the propeller suddenly goes on the fritz, which causes him to spin uncontrollably, spinning away off-screen.
Same animation as above, only this time, when Robocrook produces his propeller again, a malfunction causes Robocrook's body to become contracted, before hopping away to the left off-screen.
Similar to the above two animations, only now, while Robocrook is successfully able to fly thanks to his propeller, his upper body becomes detached from his lower body while doing so, before his lower body walks away off-screen.
Robocrook stumbles while carrying a giant drill, before the weight of the drill causes him to tumble forward then off-screen, leaving the drill behind, before Robocrook's hand then reaches out from the right and pulls the drill away off-screen.
Robocrook pushes another dumpster, before he presses another button, which this time causes wheels to appear under his feet, before his feet become rocket jets, preparing to push the dumpster, but because Robocrook's feet are facing the wrong away, he jets away from the dumpster, before rocketing back the way he came and running into the dumpster, pushing it off-screen.
Robocrook runs in from the left while balancing atop a giant gear, but the gear rolls over on top of him before crashing off-screen.