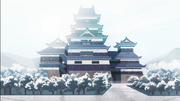 Matsumodo Castle is a historic castle in Matsumoto, Japan. It is the home of Shadowsan's brother, who was the caretaker of the place. It had multiple rooms, and one of them hosted the pair of swords.
Shadowsan's brother became the curator and manager of the castle. One day, Shadowsan stole one of the Daisho katana.

Carmen Sandiego was dispatched here after hearing of a plans of a heist. Shadowsan came here in order to return the swords. Carmen encountered Paper Star here. Shadowsan returned the sword he had, bowing his head to his brother out of respect.