Jane Reaction is an evil engineer, using her skills for her own wicked ends. She was a respected chemical engineer until someone told her that engineer weren't real scientist. Jane went critical and suffered a personal meltdown. She joined V.I.L.E. since that day. She now fights scientist with her doom machines and makes evil robots capturing people.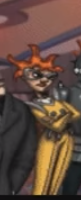 As she appears as an engineer she has a white cloth and has glasses.
"Dream on, detectives. You've got me under control for now, but there's a meltdown coming soon, and her name is Carmen Sandiego."
"Arrgggh! You've caught up with me again, agents! But you'll never accelerate fast enough for a collision with Carmen!"