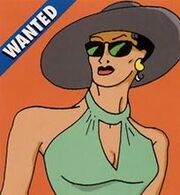 The Contessa is a V.I.L.E. henchwoman from the game show Where in the World is Carmen Sandiego? She considers herself to be high-class royalty. With her Italian name and a wardrobe consisting mostly of Milan fashions, Contessa is likely Italian herself.
Contessa was removed from the show in Seasons 2 and 3. She later returned in Season 4 with a new wardrobe and stayed in active service to Carmen Sandiego for the remainder of the show's run.
She was used in the 2019 Netflix show Carmen Sandiego as Countess Cleo.