This article is about the 2019 Netflix Series. You may be looking for the character from this series or the classic character she is based on.
Carmen Sandiego is a Netflix original series released in 2019, based on the Where in the World is Carmen Sandiego? educational computer game created by Lauren Elliott in 1985 and the associated franchise.
The first season premiered on January 18, 2019, and was followed by the second season on October 1, 2019. An interactive special was released in March 2020. A third season was announced on April 24, 2020.[1] The third season released on October 1, 2020.[2] A fourth season has been confirmed for an unknown release date.[3]
Summary
"A master thief who uses her skills for good, Carmen Sandiego travels the world foiling V.I.L.E.'s evil plans -- with help from her savvy sidekicks."[4]
Synopsis
In this version of the story, an orphan girl codenamed Black Sheep was found on the side of the road in Buenos Aires, Argentina roughly 20 years ago and raised by a group of villains who double as the faculty at V.I.L.E. Academy, located on the Isle of V.I.L.E. in the Canary Islands. Black Sheep considers the isle her home until she learns the organization's true nature.
She goes rogue, adopting the name Carmen Sandiego, and seeks to take down V.I.L.E. by stealing things they have already stolen and returning them to their rightful owners. Carmen's friends/older b/f(Tashiro) and team are Player, who works as tech support and who she has been in contact with since her days on the isle, and siblings Ivy and Zack, who help her on-scene and often act as distractions or operate the various get-away vehicles. She treats each of them with care and was even willing to save Ivy from falling off a van door and down a cliff in Indonesia.
At the end, one of her old teachers, Shadowsan, tells Carmen that he found her at the road in Buenos Aires, Argentina instead of Coach Brunt, who she had always assumed it to be. He also reveals that, during her initial tests at V.I.L.E., he had rigged the test so she would fail by removing the dollar she wasn't supposed to find in his coat. Later he leaves an important hard drive behind for her and disappears without saying goodbye.
Characters and cast
Production
The series was first rumored to be in the works by The Tracking Board on April 14, 2017, reporting that Netflix had ordered 20 episodes and signed on Gina Rodriguez to voice the title character.[5] Netflix officially announced the show in a press release on April 19, 2017.[6] The second season was announced on February 15, with a trailer releasing September 18, 2019.
The series is produced by Houghton Mifflin Harcourt with DHX Media serving as the production company with help from Chromosphere Studio and Top Draw Animation.
Episodes
Other Media
 Live Action Movie
A live-action Carmen Sandiego Netflix movie was first reported by Deadline on March 26, 2019. It was set for release in 2020, starring Gina Rodriguez as Carmen Sandiego.[7] Rodriguez will also produce the film through I Can and Will productions, along with Kevin Misher and Caroline Fraser. Screenwriter Mark Perez is set to write for the film.[8]
Interactive Special
An interactive Netflix special based on the series was first reported by Bloomberg on August 8, 2019.[9] On February 10, 2020, the special was officially announced by the Twitter account under the title of Carmen Sandiego: To Steal or Not To Steal. It released March 10, 2020.[10]
Books
A number of books have been released that tie in to the show.
 Web Games
Three games were released and hosted on Google Earth, with gameplay reminiscent of the classic Carmen Sandiego titles by Brøderbund.
Google Expeditions
A series of Google Expedition VR field trips were made, being introduced alongside the "Carmen in the Classroom" program, on June 24, 2019.[17]
Image
Title

Carmen's Skyscraper Caper
Travel with Carmen to the world's tallest structures! Kids will learn about the innovations behind these architectural wonders.

Carmen's Ancient Caper
Kids journey back in time to famous sites like the Parthenon in Athens and the Pyramids in Giza. Try to spot Carmen along the way!

Carmen's Crowded Caper
Kids learn about population density by traveling to some of the most populous cities in the world, such as Jakarta and Shanghai.

Carmen's Hot and Cold Caper
Explore the hottest and coldest places on Earth! Kids learn why we have such an incredible range of temperatures on our planet.
Board Games
ACME's Most Wanted
A board game was released by Pressman Toys, as a Wal-Mart exclusive. For 2-4 players ages 7 and up, the object of the game is to collect loot and stop V.I.L.E. It features locations from Italy, Australia, and San Francisco.[18]
Capitals Card Game
In-Flight Game
Global Eagle released an in-flight trivia game titled "Where in the World is Carmen Sandiego?"[19] in the fall of 2019.[20]
Reception
As of April 24, 2020, the series has a 7.9 rating out of 3,017 user votes on IMDb.[21]
On Rotten Tomatoes, the first season has a 93% Tomatometer rating and a 94% user rating, with the following critics' consensus: "Vivid animation and creative reconstruction of the Carmen Sandiego backstory elevates this property beyond its edutainment roots."[22]
Emily Ashby of Common Sense Media gave the series 4 stars out of 5, stating "Not only is [Carmen Sandiego's educational content] good for viewers' sense of different places and cultures, it's also a reminder that knowledge can be an effective tool against the world's ills and one's enemies."[23]
Steve Greene of IndieWire praised the show's art style and creative writing, giving it a grade of B+.[24] comicbook.com's Charlie Ridgely admired the performances of the lead voice actors Gina Rodriguez and Finn Wolfhard, the show's representation, and appreciated the moral gray area where most of the characters reside in.[25]
Awards and Accolades
Year

Award
Category
Nominee
Result
2019
Online Film & Television Association[26]
Best Children's Program
Carmen Sandiego
Nominated
Best New Theme Song in a Series
Carmen Sandiego
Nominated
Primetime Emmy Awards[27]
Outstanding Children's Program
Caroline Fraser, Executive Producer

CJ Kettler, Executive Producer

Kristen Newlands, Executive Producer

Anne Loi, Executive Producer

Duane Capizzi, Co-Executive Producer

Brian Hulme, Producer

Nominated
Outstanding Individual Achievement in Animation
Elaine Lee, Background Painter "The Chasing Paper Caper"
Winner
Television Critics Association[28]
Outstanding Achievement in Youth Programming
Carmen Sandiego
Nominated
2020
Annie Awards[29]
Best Character Design - TV/Media
Keiko Murayama
Won
Best Music - TV/Media
Jared Lee Gosselin

Steve D'Angelo

Lorenzo Castelli

Nominated
Best Production Design - TV/Media
Eastwood Wong

Sylvia Liu

Elaine Lee

Linda Fong

Emily Paik

Nominated
Best Storyboarding - TV/Media
Kenny Park
Won
Television Critics Association[30]
Outstanding Achievement in Youth Programming
Carmen Sandiego (Netflix)
Nominated
Trivia
In China, the series is titled 新神偷卡門, roughly translating to New Thief Carmen.

This is an exception to other international titles, which keep the title Carmen Sandiego.

While originally ordered for 20 episodes,[6] the first season aired with only 9, with the remaining episodes put under Season 2's release. Despite this, Season 2 released with 10 episodes, leaving one episode left. It's possible that the 20th episode is Carmen Sandiego: To Steal or Not To Steal.

Season 3 only released with 5 episodes, with Season 4's announcement arriving shortly after Season 3's release. It's possible that the episodes were split again, similarly to Season 1 and 2's release.

Cookie Booker is voiced by Rita Moreno, who was the voice of Carmen Sandiego in the 1994 animated series Where on Earth Is Carmen Sandiego?
Zack, Player, and Ivy are characters from the 1994 animated series.
The Chief's main design seems to be a tribute to Lynne Thigpen, who played the role in the 1991 PBS game show.
All in-universe text is scribbled, to make it easier to localize to other languages.
Carmen being born in roughly 1999 and being currently 20 years of age, it concludes that the show is set in 2019.
It's possible this show is meant to tell Carmen's side of all the capers A.C.M.E. confronts her in, with her team being mistaken for V.I.L.E.
Gallery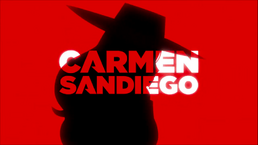 Promo
Series
External links
Social Media
References
Community content is available under
CC-BY-SA
unless otherwise noted.