I need more information, Player.
This data file is a stub. You can help the CrimeNet Global Network by expanding it.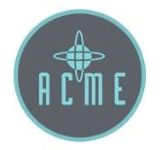 A.C.M.E. or Agency to Classify and Monitor Evildoers, is a shadow detective agency seeking Carmen Sandiego as they believe that she is the key to exposing V.I.L.E.
Information
A.C.M.E. is a detective agency that like V.I.L.E. exists only in the shadows. They use their CrimeNet technology in the pursuit to find criminals, many of whom may be linked to more than just thefts but the manipulation of financial markets to poisoning food staples.
A.C.M.E. is lead by The Chief, who has recruited Interpol agents Chase Devineaux and Julia Argent to find Carmen Sandiego and to prove that V.I.L.E. exists.
Members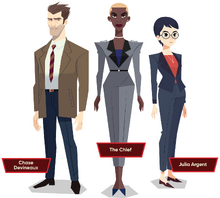 A.C.M.E. Analyst
Two unnamed members in the picture below.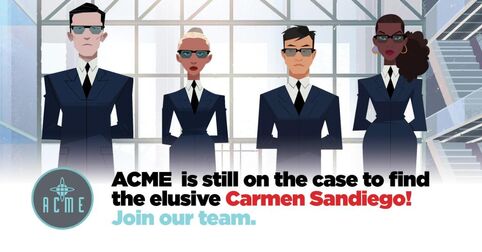 Theories
ACME will take a more shadier tone.
Since Carmen is the hero this time around perhaps ACME will be portrayed as shadier and possibly even Ambiguously Evil this time around. Some preview images which have been released do show Carmen hiding for a pair of Men In Black looking people, so perhaps those are ACME detectives and ACME as a whole will be taking on a shadier Men In Black theme this time around.
ACME does like its secrets this time around, calling itself "even more secret than VILE", though much like Control vs KAOS, they seem to be especially interested in taking on their secretive counterpart, so there could be a He Who Fights Monsters down the line.
Trivia
At the end of the series, A.C.M.E. always assigns four agents. Due to Carmen and V.I.L.E. always eluding duos.
See also